In 2009, The Mario Lemieux Foundation contacted us to create a massive 20ft x 8ft photo mosaic mural in the Pittsburgh Penguins PPG Paints arena along with two interactive kiosk and an interactive online mosaic and kiosk. The Mario Mosaic was a great way to involve the community and help raise funds for cancer and neonatal research; it was a main attraction at the new hockey arena. To celebrate the 25th Anniversary of the Mario Lemieux Foundation. Picture Mosaics has teamed up with the foundation again to completely overhaul the mosaic mural, kiosks, and online mosaic.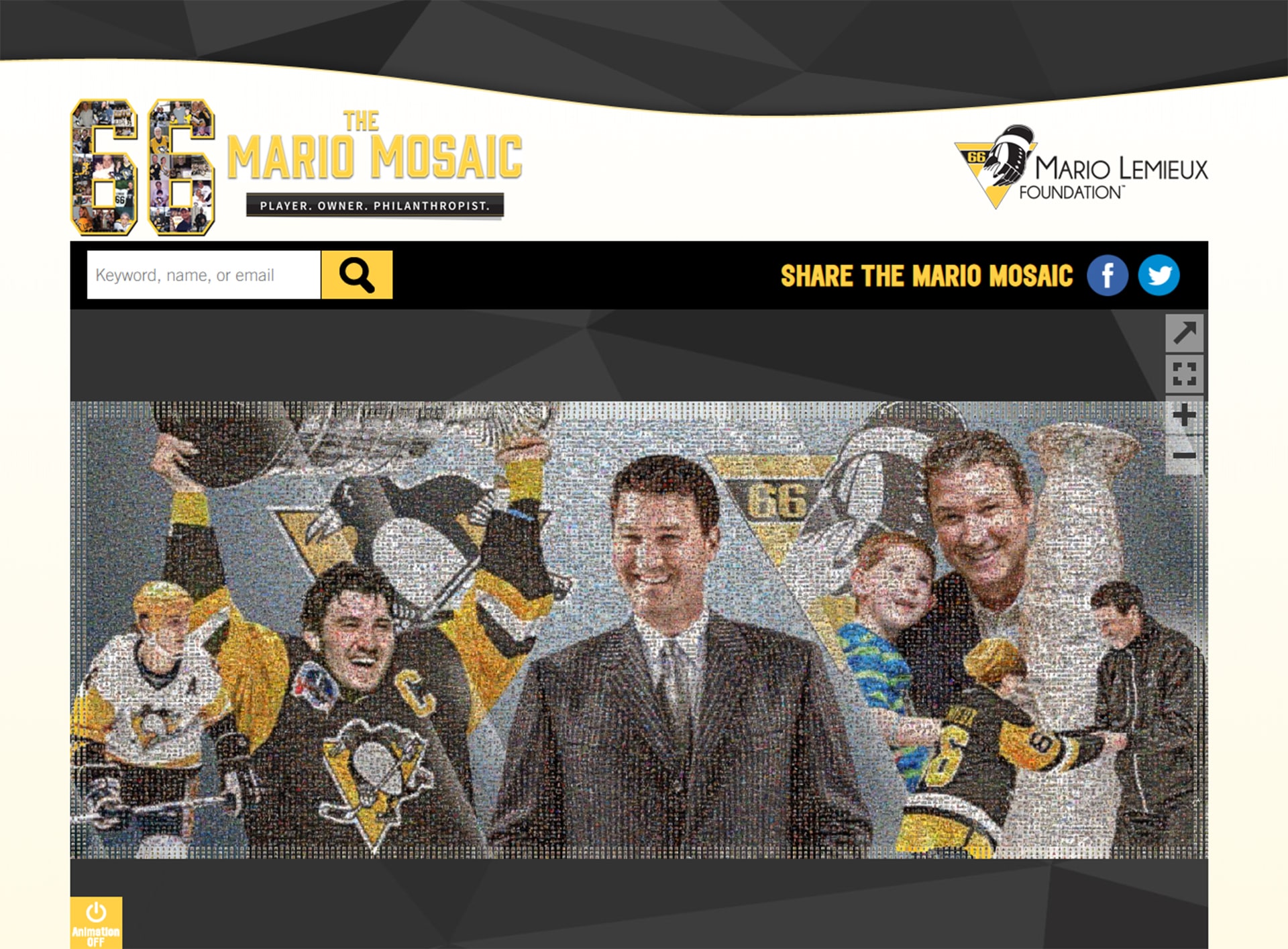 As nine years have passed, our platform has change and become much more interactive across both desktop and mobile. As such, a full rebuild was necessary: The payment flow, photo submission flow and mosaic platform all leveraged our latest and greatest technology to deliver the best user experience. The campaign ran from August 15, 2018 to October 16, 2018, and thousands of photos were submitted by Penguin fans and supporters. The foundation used our easy moderation tools to review and approve photos and the mosaic was updated in real-time as photos were approved. Fan's could see the mosaic grow and change over time and share their photo and the mosaic within hours of submitting it.
On November 15, the completed Mario Mosaic 2.0 was unveiled! The online photo mosaic onsite the mural and kiosks were all 100% aligned, so no matter how you experienced the mosaic, the mosaic was exactly the same. The new 20ft x 8ft mural is a tribute to Mario Lemieux, Penguin Fans, the Mario Lemieux Foundation and spreads awareness of the foundation along with providing a unique fundraising opportunity.
It is always exciting to see our technology being used to benefit such a great cause. Since 2001, our mosaic software and platforms have been utilized in so many ways from brand awareness, to audience engagement, to fundraising, and so much more! We are excited and committed to continue to push our photos mosaic technology in to the future. Mario Mosaic 3.0 anyone?