Whether it's in-person or virtual, engaging your audience is the key to every successful event. Companies and organizations are always looking to grab the attention of their guests, but what's the key to creating a memorable event? Our Live Virtual Mosaic platform is the perfect event engagement tool to capture your audience's attention and keep them engaged. Seamlessly integrate the mosaic with any event platform (HopIn, Snapbar, Bevy, 6CONNEX, etc.) to elevate your event into a more engaging experience.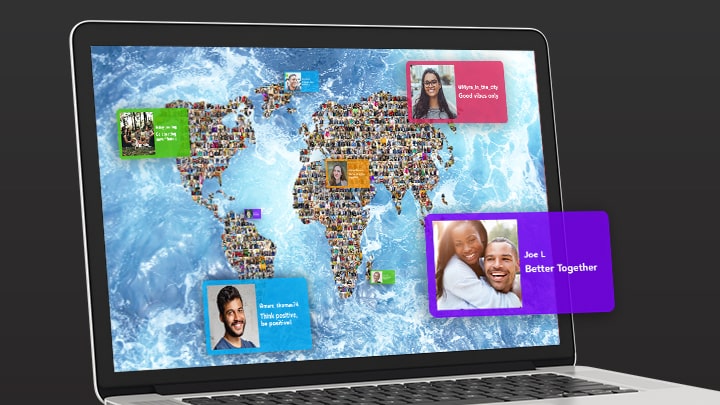 Here are just a few key features of our virtual photo mosaic platform:
Real-time true mosaic creation
Real-time color and shape analysis instantly finds the most optimal location for each photo for true photo mosaic creation. We never using image overlaying or 'ghosting'. Immediately after completing their submission, guests are amazed to watch as each photo is placed into the mosaic.
User-Friendly Photo & Video Upload flow
Each guest can personalize their submission by entering their name, email, and a caption that will be searchable in the mosaic. Add custom questions, prompts, dropdown menus, and more to personalize the user experience.
Advanced Searchability
For a fully immersive and engaging experience, the online photo mosaic is fully searchable. Simply type in a name or keyword to connect with and learn more about other guests at the event!
Custom Email Takeaways
After adding their submission, each guests receives a custom, branded email containing their photo. To close the loop, each email directly links to their photo in the mosaic because keeping your event top of mind is important.
Enhanced Social Sharing
Social media can be a crucial tool in helping spread the word about your campaign. By sharing their experience on social networks, the mosaic can become a viral sharing engine to spur further engagement.
There's a whole toolkit full of additional features to maximize event engagement. Clickable pop-out animation, interactive photo/video carousels, photo favoriting/liking, and gamification options like a photo hunt contest or prize spot giveaways – the list goes on. For a deeper dive into the features of this platform, check out the video below.
To get started creating the perfect event engagement tool for your next meeting, get in touch with us today.!