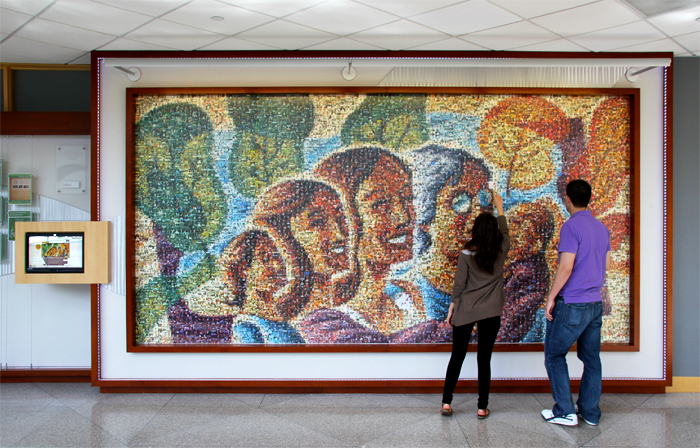 For a donation of just $25 to the Magee-Womens Foundation, participants of Magee's 100th anniversary celebration were able to include a photograph of themselves, their child, or another special person in their life in the Magee 100 Mosaic. Thousands of submitted photos helped to create this 14ft x 7ft Magee 100 Mosaic — a beautiful piece of artwork that hangs in the main lobby of the hospital.
Each donation was used to support the Patient Care Fund at Magee-Womens Hospital of UPMC. The Patient Care Fund provides many necessary items for patients and their families while being cared for at Magee.
After several discussions with the Magee-Womens Foundation, we were able develop a customized user flow and donation model. After several months of collecting donations and photos, the photo mosaic was designed and executed in three great forms: a large 14ft x 7ft mural, an interactive/searchable kiosk, and a full featured online interactive mosaic. Overall, the project was a huge success!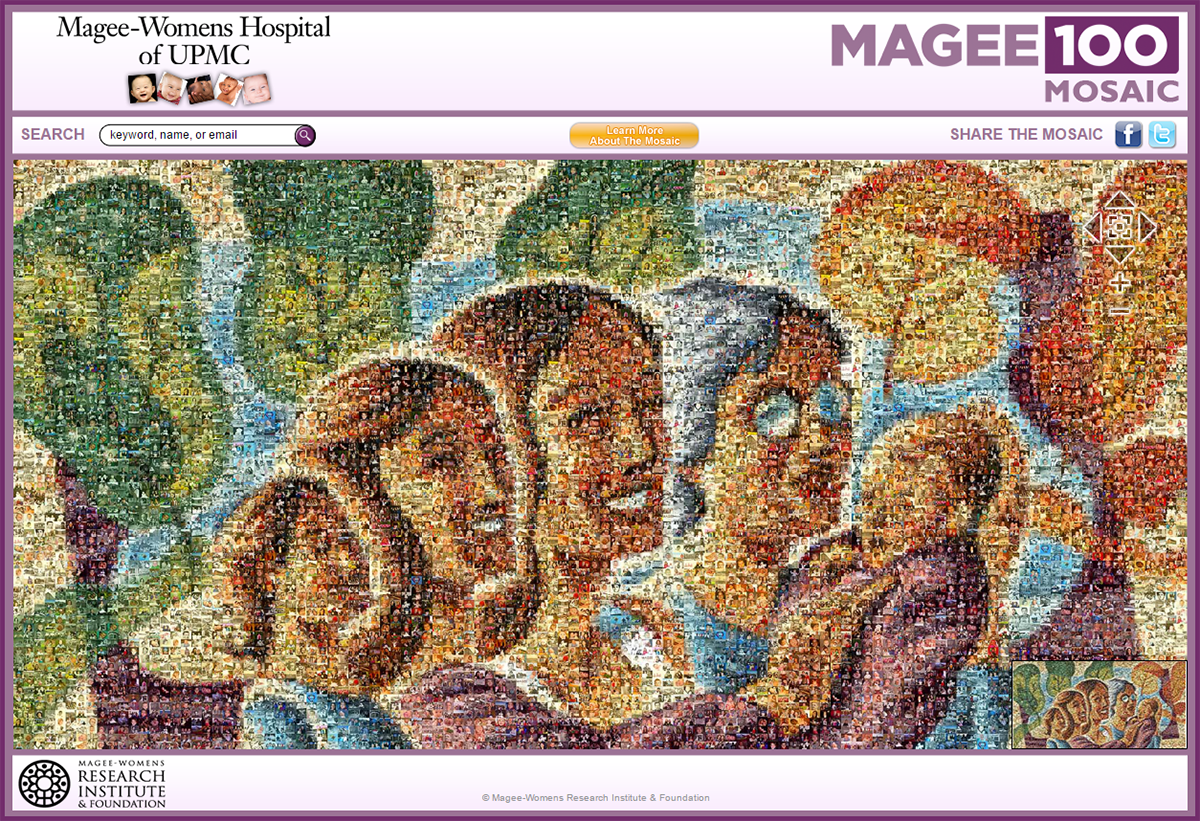 Picture Mosaics provided a turn-key solution for this campaign, which include the following:
A microsite with a custom donation and photo upload flow.
Donations (via Paypal) were deposited directly into Magee-Womens Hospital's account.
Photo moderation and review.
Full production and installation of a 14ft x 7ft mosaic (2800 dpi) with a custom kiosk application and touch screen terminal so users can easily search and find their photo(s) and interact with the mosaic.
An online interactive mosaic to allow visitors to search, explore, and share the mosaic in a easy and user friendly way.
Since the mosaic was an ultra wide format, a dynamically resizable mosaic viewer was implemented and deployed for all web browsers.
Additional Links and Resources:
Magee Mosaic Online Mosaic
Magee Women's Hospital of UPMC
Magee Women's Research Institute and Foundation