They say that imitation is the greatest form of flattery. While exploring the online world of photo mosaics, I came across Kyu Hak Lee's mixed-media mosaics. Beautifully innovative, his work is an homage to the iconic artwork of Vincent Van Gogh. By cutting small slivers of Styrofoam and wrapping them with newsprint and magazine pages, Lee creates lush, vibrant landscapes of color. Each piece is strategically placed to perfectly mimic Van Gogh's unique brushstrokes.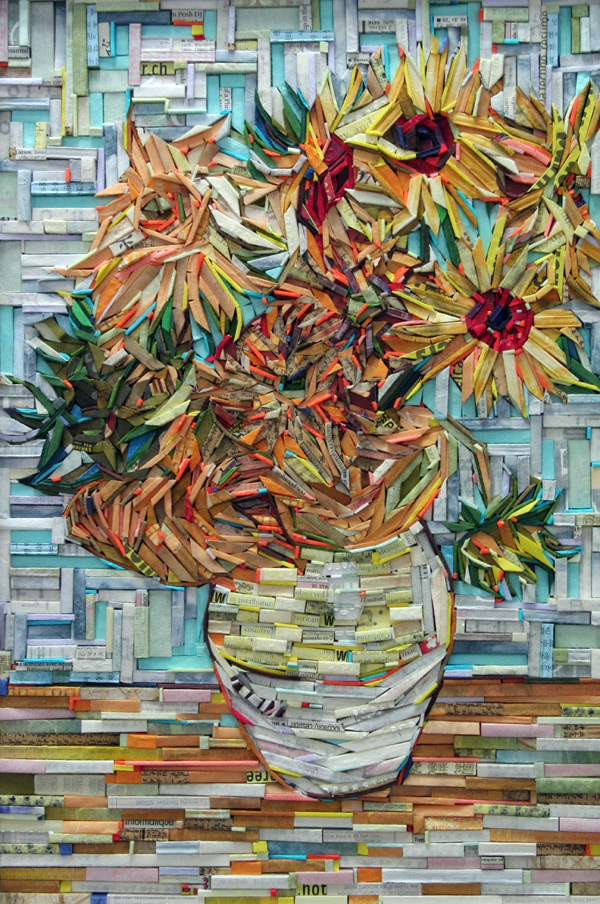 Lee's created a number of these beautiful mosaic masterpieces, calling the collection "The Monuments." With garbage and clutter being all too prevalent in our world, Lee has found a way to put it to good use. Some of the garbage, at least. His decision to us such mundane and disposable material was deliberate and precise. In an interview with The New York Daily News, Lee said:
"To me, Styrofoam was the best material symbolizing the modern civilization…Styrofoam is easily broken and easily melted with heat, but non-biodegradable like plastic."
Photo mosaics have long been a passion of mine and I'm always on the hunt for artists that push the mosaic concept to its limits. Lee's work is a breath of fresh air; by creating mosaics that mimic classic oil paintings is something I've never encountered before. I'm looking forward to seeing more of his mosaics in the future!
Photos from The New York Daily News and Colossal.