Now introducing Mirror Mosaics, you can jump, dance, get wild! Your guests will have a blast watching their every move in mosaic form all while making a lasting impression with your message and branding.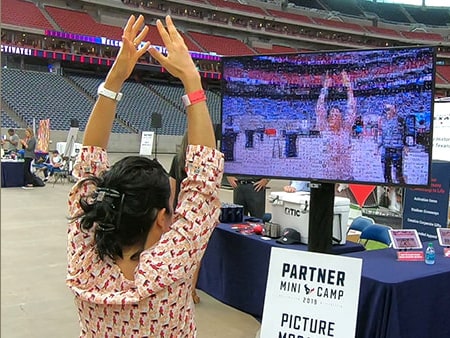 Here at Picture Mosaics, we are constantly pushing the envelope when it comes to mosaic technology. Our latest advancement offers anew way to engage your guests and elevate your event! Watch yourself become transformed into a mosaic in real-time, capturing every movement.
Texans Partner Mini Camp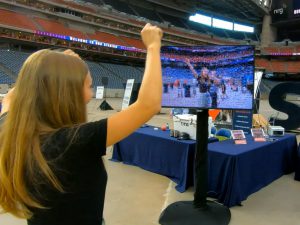 As part of the Texans Partner Mini Camp, Picture Mosaics drew in fans to share their excitement for the upcoming season with our captivating Mirror Mosaic. Fans watched a mosaic version of themselves dab, cheer and fist pump in real-time!
Bottle Rock Music Festival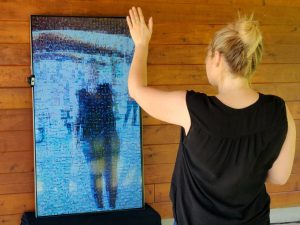 Picture Mosaics was flown out to Napa Valley, California for the Bottle Rock Music Festival to engage attendees with our Mirror Mosaic! Festival goers visited the booth over and over to see their dance moves reflected in sync with the live mosaic and the live music!
Philadelphia International Airport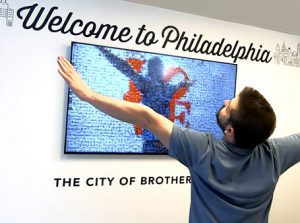 The city of brotherly love sponsored Picture Mosaics to host a Mirror Mosaic in the Philadelphia International Airport for passengers to celebrate their arrival. Travelers not only kissed the ground upon landing, but they twirled, jumped and showed pure joy for being welcomed with such a fun experience.
Key Features
Real-time mosaic transformation (< 0.3-sec delay)

True color and shape matching

Supply your own photo library or leverage any number of stock photo libraries

Horizontal or vertical displays supported

Logo and image display options when the Mirror Mosaic is idle

Add MosaicMe prints or digital takeaways for a lasting impression

Enhanced social sharing options

We are thrilled to share this product with the world that will be sure to be a crowd-pleaser at any event. Whether catching your guests by surprise or being the centerpiece of your event, this high tech mirror is sure to engage your attendees