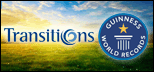 Guinness Book of World Records Photo Mosaic
What do you get when you have 176,750 photos, a large empty convention center, and a mosaic technology company: The Guinness Book of World Record's largest photo mosaic.

Transition Lenses partnered with Picture Mosaics to create the world's largest photo mosaic ever. Over a 6 month period, users submitted their favorite photos. After the submission period closed, our true effort of designing the world's largest photo mosaic began.

The first step was to run the photos through our proprietary duplicate finder to ensure each photo was truly unique (a Guinness requirement). This whittled the roughly 182,000 photos to 176,800 photos. Then with our confirmed set of unique photos, we began the color and shape analysis. We were truly excited to see what our advanced analysis engines (algorithms), a cumulative development effort over the last 10+ years, would be able to do with such a large set of photos. We have four main engines that we use depending on the content of the target source along with the types of photos that will make up the mosaic. On our best machines, this process took a full week, however after all analysis and placement rendering was complete, it was clear which engine produced the best mosaic. With a little further tweaking and final re-render, the design of the world's largest mosaic was complete.

The next big step was production. For organization (and sanity), we placed row and column information into the corner of each photo, once this effort was complete, it was off to production! Production of the 5"x3.5" photo prints took about 1.5 weeks - the pile of boxes was quite impressive!

There was much organization and planning for the final step: construction. Once a plan of attack was solidified and the stage was set, IT BEGAN: hand placing each photo, one photo at a time.

The mosaic was constructed on the Florida State Fairgrounds, as volunteers worked over the course of 3 days to hand place, one by one, the 176,750 photos. The final mosaic covered over 21,000 square feet, and was officially awarded the world record on October 11th, 2012. A day that was also declared Tampa Sight Day by Tampa City Council member, Harry Cohen.

Picture Mosaics is truly proud and honored to be a part of this record breaking mosaic.
Transitions Optical
Event Promotional Video
Tampa Bay Times
Coverage and TV Spot
Picture Mosaics
Time Lapse Animation
Sight Seeing
Interactive Mosaic