Cutting Edge Mosaic Technology
W
e have created state of the art software and techniques to produce the very best photo and video mosaics possible.
Using software that is adaptive depending on the main source image and cells, we can create the clearest and vivid mosaics
WITHOUT
superimposing, ghosting, or using large amounts of cell colorization.
M
any other mosaic companies cheat by superimposing or "ghost" the source image on top of the mosaic or add excess amounts of colorization;
this creates a fake or untrue mosaic
. We are continually making advances and upgrades to our mosaic algorithms (ie. advanced shape recognition) and techniques as we find new mosaic challenges.
I
nstead of dividing your source image into strict "tiles" or "squares" as most other mosaic software programs do, we divide the image "soft zones" we call
Adaptive Regions
™
. This unique and groundbreaking concept allows us to adaptively optimize the placement of each photo within your personalized mosaic depending the content of your the source image and the important aspects within it.
---
Why is our software and techniques superior to everything else on the market today?
S.M.A.R.T.™
(S
imultaneous
M
ulti-compare
A
daptive
R
endering
T
echnology
)
Using a dual processing technique to analyze photos for
shapes
and
colors
we can effectively use our unique
Adaptive Regions
™
(described above) to optimally select a photo for each location for the best overall appearance. Many other software programs and companies ghost and/or add significant amounts of cell colorization; however due to this break through in photo mosaic technology, we are able to minimize these undesired techniques. Be sure to visit our examples gallery to see real mosaics using S.M.A.R.T™. Below helps illustrates our Picture Mosaic software and techniques using our S.M.A.R.T™ compared other mosaic technologies and companies:
Mosaic software and techniques that allow us to work on the most important parts of the mosaic first.
We first define and optimize each mosaic for faces, important text, and logos to look as they should (works synchronously with our Adaptive Regions™ technology)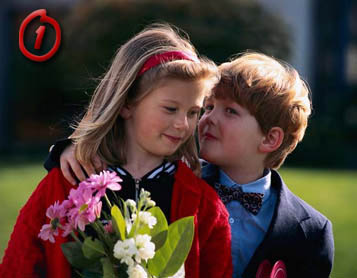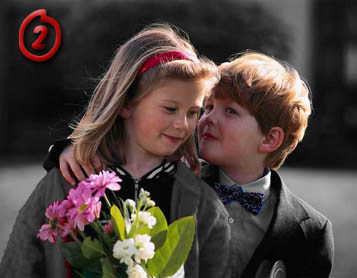 Important aspects (shown in color) will be optimized first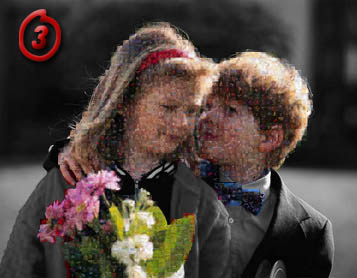 Important aspects analyzed first and completed
Remaining is analyzed and completed
Face Recognition
We have engineered and deployed cutting edge face recognition technology into our design flow to provide unique mosaics that previously were not possible.
One of the many uses of this exclusive technology is to create vivid mosaics with only a limited amount of pictures. A great example of this is that we can extract every face from each picture submitted to us to create a multitude of face images. This technology also allows us to deploy smart cropping algorithms on differently sized images so that the main focus of each picture is never lost. Picture Mosaics is the first and only company to bring this technology to mosaics.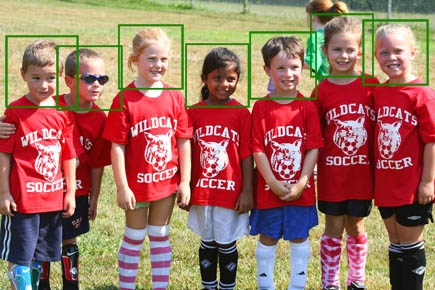 All faces within a photo can be recognized, extracted, and used as
UNIQUE
cells within your mosaic!
Target cell size optimization
Using proven techniques for cell size selection, we can optimize faces, important text, and logos to look as they should
We analyze the important aspects of your source image and all cell images you provide to select an optimal cell size and cell count for your mosaic. This allows faces, text, and logos to be as clear as possible.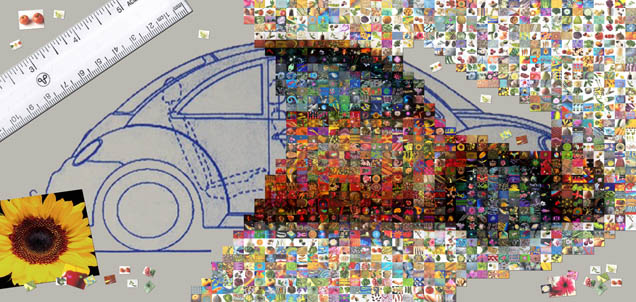 inMotion Video Mosaics
Building on our mosaic technology, we have engineered industry leading software to produce full motion, full HD video mosaics.
Social & Interactive Mosaics
As the web continues to be more interactive and engaging, we have developed frontend and backend software to provide our clients with a way to involve online visitors in a unique photo mosaic experience. We have found that this is a great marketing/promotional and "unity" concept that has a long lasting impression.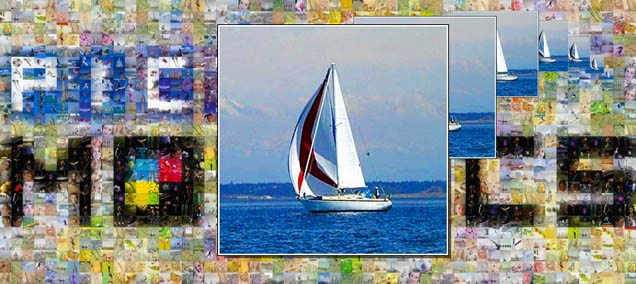 Using Industry's most premium high resolution printers and equipment configured for mosaic printing
Along with using specially select print media to ensure optimal clarity and quality, we use state-of-the-art large format printers. Our production facility is mostly an Epson and Canon based and features only the most high-end equipment these companies offer. Our

dpi

ranges from 2880 to 4800+ dpi to ensure maximum clarity in your mosaic print. Currently, a majority of our mosaics are printed on brand new

Epson Pro 9900 HDR

printers.
| | |
| --- | --- |
| Q: | Does Picture Mosaics license or sell its mosaic software? |
| A: | At this time we do not license or sell our software. However, we would love to work with you to create a stunning personalized mosaic print or unique mosaic experience. We continue to tweak and optimized our current algorithms while at the same time inventing new ones. We strongly feel that to design a photo mosaic with that wow factor, 50% is due to the software, and the other 50% is due the experience and knowledge of advanced photo mosaic design techniques. We strongly feel that the creation of a mosaic is true art form and not just results of computer yielding a mathematical result. |